SOMFY SMARTPHONE APP
Somfy is taking home automation to the next level with it's unique and innovative concept on creating a smart home both inside and out. They are bringing new levels of convenience, comfort, security and energy savings to their users.
"Imagine opening or closing your blinds, locking your doors, checking on your dog, or turning the heat on, all from your smart phone. This might sound like something out of a science fiction novel, but it is quickly becoming reality. Home automation, which used to be out of reach for most consumers, has made a splash in a big way over the last ten years, with new technologies and patents emerging each year". -Somfy

"If you are looking for ways to make your home smarter, more intuitive, and more accessible, home automation may be for you. However, it is important to do your research before taking the plunge. So, before you jump online and start purchasing the latest automated thermostat, there are some questions you'll want to work through". -Somfy  
For more information, read What To Know Before Taking the Home Automation Plunge.
Control your power window coverings, awnings, screens and rolling shutters with a smartphone or tablet!
With myLink from Somfy, "it's easy to transform your experience with Somfy-powered motorized solutions and maximize the benefits that they provide, such as energy savings, privacy, comfort and convenience. The myLink puts you in control, so that you can operate your motorized shades, blinds, awnings, screens and shutters with your favorite mobile device whether you're home or not".
Features such as app control, remote access, timed events, on-screen set-up wizard, flexible, compatible, optimized for iPad

Somfy technology
For more details, we referred to this article: "When talking to customers about RTS-controlled shade solutions, tell them about Somfy's new mobile app, myLink. The app allows the homeowner to easily operate RTS-controlled products, such as awnings, door blinds, roller shades, draperies and patio screens remotely via their smart phone.
The myLink app works with shade solutions installed with the myLink Wifi to Radio Technology interface available from Trivantage.
There are even "scenes" to choose from that allow for automatic programing. For example, Good Morning to open shades and Movie Night to close shades can be scheduled to happen at specific times each day.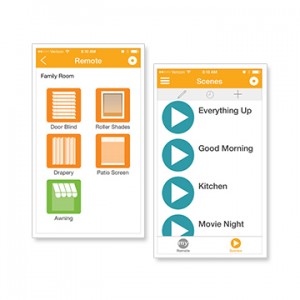 "The myLink app is currently available from Somfy® for iPhone and Android, however, there may be some delivery delays". Note: Must have wireless internet access (WiFi) at the awning location for the app to work.
"Technology has accelerated change in just about every aspect of life. No longer reserved for science fiction, newest innovations are hitting a home run. A smart home is not something from the distant future or The Jetsons anymore. From smart TVs to appliances or even smart sprinklers, the (hi-tech) future is closer than ever. With the use of intelligent Somfy motors you can add your window treatments into the smart mix. Somfy solutions easily integrate with home automation systems, so you can synchronize your blinds or draperies to move in perfect unison with your lights, thermostat and home theater". – Somfy 
Here's some benefits to home automation that might convince you if you're on the fence: 12 Benefits of Motorized Window Treatments. 
For more information on Somfy and whether motorized shade options are for you, visit Somfy Ideas and Insights to browse all their available products.