SUNBRELLA – A HISTORY OF FUNCTION AND STYLE INNOVATION
"The evolution of Sunbrella has come a long way over its' 50 years. For a brand that started out as an industrial-grade awning fabric in only six colors, Sunbrella fabrics have come a long way. From awnings to marine to casual furniture, these fabrics have led the industry with extensive styles and colors while providing unparalleled performance.

In the early 1990's, the company launched its softer side with stunning fabrics targeted at interior design and now available in design showrooms across the country. Today, Sunbrella is used in a variety of innovative new products that offer creative solutions for consumers and the design community".
In 1961, Sunbrella revolutionized the awning market with its' unique and durable take on fabric. A product so different from anything else available at the time, they grew to be THE trusted source for durable and stylish fabric that would withstand all the elements.
In the mid 70's, the innovators grew to be the #1 fabric choice for boaters and sailors, due to its' durability and easy cleaning style.
Throughout the 80's, Sunbrella expanded its' product line to the interiors sector, featuring fabric furniture cushions and accessories. Over the years, all of the nation's leading casual furniture manufacturers have selected Sunbrella fabrics for their premium furniture lines.
From the start of the early 2000's, Sunbrella developed it's fabric to be easily transitioned throughout the interior of the home from decks, patios and poolside, to dining rooms, family rooms, even kitchen and bath.
Sunbrella Inside the home
Bringing the outdoors in. You can now use Sunbrella throughout your home inside and out. Not just limited to the outside anymore, it has evolved to be featured in every room of the house with their upholstery and accessories line. Allowing the freedom to decorate with stain resistant fabric and furniture that you'll enjoy worry-free for years to come!
Upholstery:
Perfect for every room in your home, Sunbrella fabric will withstand the messiest kids and the reddest of wines. Their fabrics let you enjoy your home without worrying about the all inevitable messes your pets and others might create – so you can breathe easy, even while hosting friends and family.
Accessories: 
A great way to make a room your own or to change it with the seasons is to add decorative and colorful accent pillows and throw blankets. Pillows and throws add color, texture, patterns and depth, and can be mixed and matched or changed easily when you're ready for a new look. Sunbrella throws are super soft and cozy, but also stain-resistant and can even be cleaned with bleach.
Sunbrella's area rugs are the perfect solution for defining an area in a large room. Their area rugs are made with 50 percent recycled Sunbrella fiber – giving you something interesting to discuss in your well-defined living space.
Outdoor Living with Sunbrella
Bring your outdoor space to life with colors, textures and patterns as amazing as the beautiful outdoors. Along with the strength and durability to handle the elements and all of life's moments. You can create a colorful outdoor living space with their durable and stylish outdoor furniture options and accessories.
Not only does Sunbrella drapery add that finishing touch to your outdoor room, they have the Skin Cancer Foundation's seal of approval, so you and your family can enjoy the outdoors with worry-free sun protection.
No outdoor space is complete without accessories such as throw pillows, blankets and area rugs to tie the look of a room together with pops of color and texture that can easily be switched out seasonally.
GOING GREEN: Sunbrella Offers Sustainability 
Offers a recycling service for all their customers. They actually repurpose used Sunbrella products into a variety of recycled products.
Fabrics are certified by GREENGUARD as contributing to healthy indoor air quality by being a very low emitting interior product.
Fabrics are engineered for a serviceable lifespan two to ten times longer than conventional fabrics. The environmental impact of producing cotton canvas, for example, must be multiplied many times to compare it with Sunbrella's extended longevity.
The Skin Cancer Foundation recommends Sunbrella as an aid in the prevention of sun-induced damage to the skin.
A recent study by the University of Minnesota illustrated that awnings made of Sunbrella fabric reduced home cooling energy consumption by 10% to 60% and peak cooling loads by as much as 40%, depending on geographic location. Cooling requires less energy because the awning's shade prevents the sun's heat from entering the home through windows.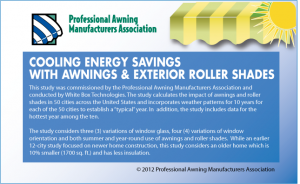 An awning reduces your energy costs by blocking the sun's heat in warmer months.
'On average, an awning can reduce solar heat gain by 55-65% on southern facing windows and 72-77% on western windows, therefore reducing total home cooling costs by up to 60%'. – PAMA
Sunbrella's Limited Warranty
Sunbrella stands behind it's fabrics with a guarantee that's the best in the industry. A 10-year limited warranty for shade and marine fabrics, along with a 5-year limited warranty for specialty and decorative shade fabrics. This warranty applies to the original buyer only. It protects against your fabric becoming unserviceable, due to color or strength loss from normal usage and exposure conditions, including sunlight, mildew and atmospheric conditions.
For more information on this story and more, please visit Sunbrella.  There you can browse their virtual showroom of fabrics, styles and inspiration for your home or business. Their fabrics featured in our showroom are available at all times. Feel free to stop by anytime to browse their entire collection.  Also visit our Pinterest page for design inspiration and ideas. Call us to discuss your next Sunbrella product today! Call (704) 333-1581 or visit our website here.