COOLING ENERGY SAVINGS WITH AWNINGS AND EXTERIOR ROLLER SHADES
Awnings and window coverings not only provide style and privacy to your home decor; they are also an extremely practical and energy efficient addition to your home or business in order to reduce cooling costs. By utilizing one or any combination of these options, there will be a noticeable difference in energy savings.
"Awnings can reduce solar heat gain up to 65 % on south-facing windows and up to 77 % on west-facing windows", according to the U.S. Department of Energy.
In fact, fabric awnings and exterior shades can help reduce cooling costs overall by more than 50%, according to a report by the Professional Awning Manufacturers Association (PAMA). For commercial green builders, awnings can contribute to your LEED (Leadership in Energy and Environmental Design) credits for energy performance and efficiency, according to the US Green Building Council and Building Green, Inc (USGBC).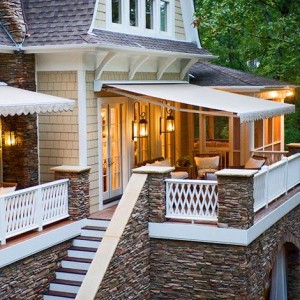 ENERGY SAVINGS
With rising energy costs and record heat, home and business owners are constantly looking for ways to stay cool and cut their air conditioning bills. An easy and decorative way to achieve energy savings is by installing an awning.
In fact, awnings help reduce a home's internal temperature and can potentially reduce the size of and mechanical wear and tear on the home air conditioning unit.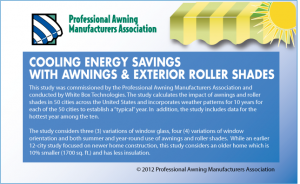 According to PAMA, here's a quick list of how awnings can help you save:
Homeowners can save up to $200 annually.
Awnings can also expand your living space.
Awnings help protect family, guests, and pets from the harmful UV rays of the sun.
Awnings also offer great curb appeal and can be customized. That means you can customize your awning and install a retractable awning which you can retract in the winter and roll out during the summer.
You can view the full report from PAMA (Professional Awning Manufacturer's Association) here:
Here, we cover a few energy saving options for your home or business to provide practical and simple shade for all your cooling needs:
WINDOW COVERINGS, BLINDS AND SHADES 
If you're not interested in window awnings, you can also use exterior blinds and other window and door treatments to help reduce your energy costs. There are a variety of options you can choose from to help reduce solar heat gain, including interior blinds, drapes, window shades, shutters, insulated panels and more.
Vertical shades are a perfect choice when you are looking to shade an exterior window or enclose a covered deck or patio. With options such as power screens and vertical drop curtains, you can find the right energy savings solution for your home.
Exterior shades provide privacy, protection from harmful UV rays, energy savings and reduce glare inside your home. There are a variety of fabric choices to choose from and each is engineered differently to perform separate functions.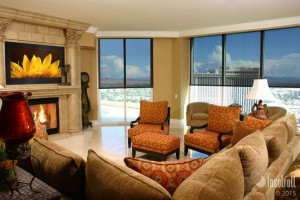 POWER SCREENS
Power screens are ideal when a sleek design is what you're looking for. The power screen model with "SRS" technology incorporates side retention tracks on each edge of the fabric to eliminate gaps and create a perfect barrier from those annoying bugs. This model offers the best combination of sun protection, as well as a complete enclosure system.
The power screen "Cable Guided" model is best used in lighter wind environments and is primarily designed to offer sun protection, privacy screening and light wind protection. This model is ideal if the architectural design of your home doesn't allow for the installation of side tracks and a complete enclosure isn't necessary.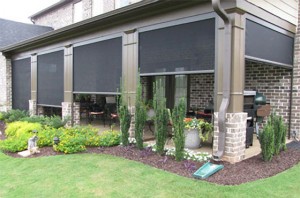 VERTICAL DROP CURTAINS
An economical energy saving choice – the Vertical Roller Curtain – provides both shade and privacy without a sleek housing or track system. The roller curtain is not fully fixed at the bottom and can move with the wind.
For more stability, you may consider the Vertical Cable Curtain. These curtains utilize side cables that protect the curtain from movement and provide more security in windy conditions.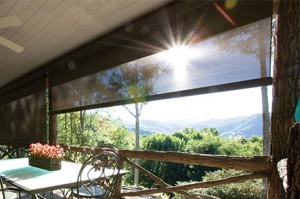 Any of these shade options can be used alone or in combination with each other to provide the practical cooling solutions and energy savings you're looking to achieve. You really can't go wrong with any of these shade, energy efficient solutions.
To learn more about energy savings for your home or business with power screens, drop curtains, awnings and more shade options, please visit Alpha Canvas anytime or call us to discuss at (704) 333-1581.