SHADE IS SUN PROTECTION FROM HARMFUL UV RAYS
According to the Skin Cancer Foundation:
'While shade is a potentially valuable means of protection from the damaging effects of the sun's ultraviolet (UV) rays, not all of it is equally protective. People can spend long hours in the shade, while still receiving quite a lot of sun exposure and risking skin damage. This is because UVB rays, often considered the most harmful part of sunlight, can reach the skin indirectly.
DID YOU KNOW UV LIGHT IS ATMOSPHERIC RADIATION?
The Skin Cancer Foundation (SCF) stresses that 'indirect or diffuse UV light is actually considered radiation that has been scattered by the clouds and other elements in the atmosphere, and/or bounced back from UV-reflective surfaces, like dry sand or concrete'.
'In fact, a large percentage of the UV light we receive while sitting under a tree or an umbrella is indirect. We can rely only on deep shade (where we cannot see the sky and no UV penetrates) to truly offer complete protection'.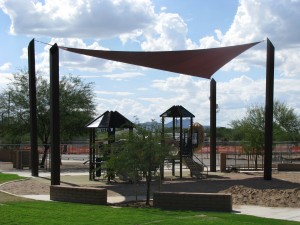 SHADE STRUCTURES AND SPF (SUN PROTECTION FACTOR)
Shade structures, such as roofed areas, shade-sails (UV-protective fabrics that can be installed over outdoor areas) and pergolas (free standing, open-roofed arbors) widely differ in the amount of protection provided.
Indirect UV can still be high beneath these structures – many have real SPF's (Sun Protection Factor) of only around 3–6 feet. 
"In a recent study of 29 shade structures in New Zealand primary schools, only six had SPF's of 15 or greater, the minimum acceptable amount recommended for outdoor activities. This was alarming, given the importance of protecting children against UV and the strong evidence that excessive sun exposure during childhood significantly increases the risk of developing skin cancer later in life". -SCF
Factors that determine how well a structure provides shade include:
Size of the structure
Its' orientation (which direction it faces)
Where it is in relation to other structures, such as buildings, trees and other vegetation.
The amount of UV protection provided by a structure is also contingent upon the angle of the sun and the degree of cloud cover.
'Because the amount of diffused UV rays that hit the skin depends on the amount of open sky visible from the shade, larger covered areas provide more protection than small ones. Shade structures with side-on walls, drop screens, power shades or other side protection, and those surrounded by other structures provide the greatest shelter from the sun's rays'.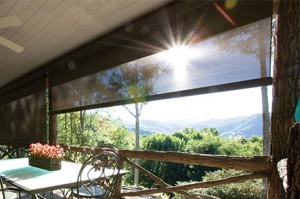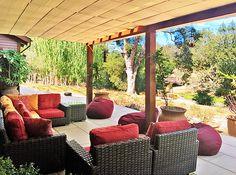 SPF AND SUN PROTECTION
'Shade alone can rarely provide full UV protection, especially for prolonged periods.
However; it is one important element in a comprehensive sun protection program that includes:
Covering exposed skin with clothing (particularly clothes made of bright- or dark-colored, tightly woven fabrics)
Wearing hats, sunglasses, protective UV protected clothing and regularly using sunscreen with an SPF of 15 or higher.
All these steps taken together will help ensure that we are adequately protected from the sun's rays when we are outdoors'.
For more information on the importance of shade and sun protection, please visit the Skin Cancer Foundation. 
If you have any questions or would be interested in a shade structure for your home or business, please visit our website Alpha Canvas and check out the photo gallery for idea inspiration or call us anytime at (800) 583-9179.