TRIVANTAGE SALES TOOL ILLUSTRATES ROI (RETURN ON INVESTMENT) FOR ENCLOSED PATIOS
If you're in the restaurant business, you're getting your patio ready for warm weather right about now. If you've been on the fence about adding one of those cool patio enclosures your competition has, this tool is just for you.
In the highly competitive restaurant industry, owners and managers must carefully weigh every new investment to assure that they can achieve increased sales and attract happy, loyal customers. When it comes to restaurant patio enclosures, Trivantage has created the ideal tool for sales and marketing.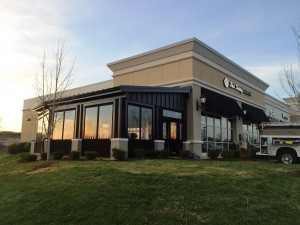 The Trivantage ROI calculator is an Excel spreadsheet that allows you to input the three variables that will affect the return on investment of a patio enclosure – the average customer bill, number of additional seats included in the enclosed area and the number of additional days that the patio can be used. When you multiply these three numbers together, the result is a quick calculation of additional revenue from a patio enclosure.
"Restaurant owners can easily change any of the three variables and view the result instantly, " said Steve Daegling, awning products manager. "For example, if the owner believes the enclosure will mean 90 additional days in patio use instead of 70, he can plug in the new number and instantly see the impact on revenue."
*WATCH THE ROI Sales Tool Video. 
*And then if you'd like, you can download the calculator.
You can also watch this video of a Charlotte Restaurant Proving Value of Enclosed Patio:
"Red Rocks Cafe is a locally owned restaurant group with two locations in Charlotte, N.C., that consistently attract loyal patrons who enjoy varied menus, attentive wait staffs and convenient locations. Red Rocks patrons also enjoy year-round outdoor dining at both locations, including an expansive enclosure that Alpha Canvas & Awning fabricated for the Red Rocks location in the Strawberry Hill section of Charlotte on Providence Road.

In this video, John Love, Red Rocks co-owner, describes how the enclosure has been great for business, increasing sales by 13 percent and paying for itself within one year of installation. Best of all, the enclosed space offers the restaurant increased flexibility for special events, such as buffets during holiday specials. Also discussing the project are Angie and Eric Riggins with Alpha Canvas who describe their proprietary approach to creating patio enclosures that are durable, easy to use and beautiful".
*Sources cited: Trivantage Blog