SOLAR POWER SCREENS AND VERTICAL DROP CURTAINS
Solar power screens can drastically reduce indoor room temperature, often by as much as 20 degrees, during summer months. This reduces air conditioning costs. In winter, unlike window tinting, solar power screens can be raised, allowing the sun to come in and warm the room.
Solar screens, whether installed inside or outside the room, will reduce sun's glare, while maintaining the view. Solar shades also cut down on interior fading of floors, carpets, and furniture caused by UV sunlight.
Solar screens give you daytime privacy in your home or office. Sunair offers black out type fabrics that completely block all light. These fabrics are ideal for media rooms and where privacy is important.
Many screen fabrics can even be printed with graphics. These screens can serve double duty; first as a window treatment,  also as advertising for commercial spaces in offices and retail businesses.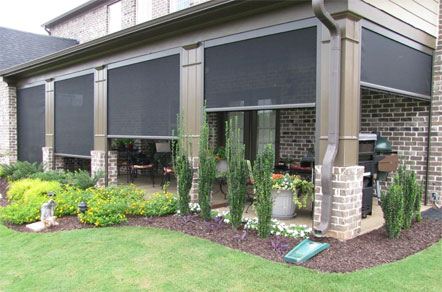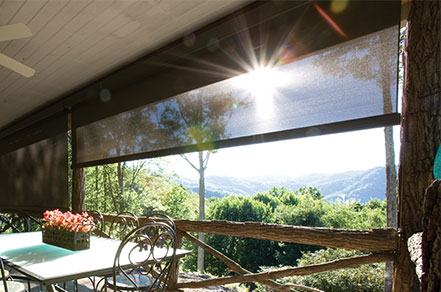 SCREEN SELECTION
Sunair solar screens are available for either interior or exterior use. They can be manually operated or motorized. Each screen is custom designed for your specific location and intended use. Frame color, fabric selection, size and operation are all up to you as a customer.
Consider the options below to help you in selecting the best custom screen system for you. Or better yet, plan on talking or meeting with a Sunair Representative, such as Alpha Canvas  to discuss and select the best screen system:
EXTERIOR OPTIONS :
Mastershade® Retractable Exterior Solar Screen Systems with track, cables, or zipper. 

Fabric type: Mesh or vinyl with windows.
INTERIOR OPTIONS:
Retractable Interior Solar Screen Systems: Mastershade® ISC6000, ISC6500, ISC7000. 
SOLAR SCREEN PLACEMENT
Sunair solar screens can be installed either on the outside of the window glass, or on the inside of the window glass, or even where no window glass exists.
Wherever placed, solar screens offer significant benefits to the owner, often paying for themselves in energy savings and by preventing UV sunlight damage to expensive interiors, such as rugs, furniture, window treatments, etc.
Solar screens can be installed either on the exterior or interior of the windows. With exterior solar screen installations, the fabric blocks the sun's heat before it enters the home through the glass. This stops the window glass from getting hot and becoming a summer heat radiator. Exterior installation cuts down on room heat the most.
Sometimes a screen just wont fit or work on the exterior. In that case, interior screens offer a good alternative. Interior screens don't need to tolerate the weather elements and are less expensive than exterior screens.
SOLAR SCREEN OPERATION
Small exterior or interior screens can be motorized or operated manually. Motorization is recommended for larger screen systems. They can be activated by a wall mounted or a hand held transmitter, mobile app or even automatically by sunlight, temperature or home automation systems, such Somfy's Tahoma System. (http://www.somfytahoma.com/)
RETRACTABLE SOLAR SCREEN BENEFITS
Solar Shading: A solar shade from Sunair® is the ideal solution for keeping sunlight at bay and at the same time enjoying its advantages. You can eliminate glare, and control the amount of light that enters the window or door while still keeping a view of the outside. Simply push a button and the optional motor lowers or retracting the shade. Our shades also protect your furniture, curtains, and floor coverings from UV damage.
Energy efficiency: A solar shade from Sunair® can significantly reduce indoor temperature, while lowering cooling costs by blocking the sun before it enters your home. Our fabrics can effectively block up to 90% of solar heat rays when installed on the exterior of the window. Depending on the type of fabric used, you may notice a potential drop in AC cooling costs by as much 25% – 40%.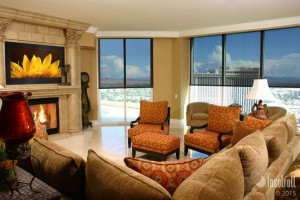 FABRIC OPTIONS
If energy saving and UV protection is most important, then a more closed or tighter weave fabric is better suited. If view is important, a more open weave is a consideration. Fabrics are available from a 1% to 14% openness factor. Fabric samples are always available for evaluation through a Sunair representative, such as Alpha Canvas.
Once the right openness factor is determined, fabric color and pattern can be chosen. Darker fabrics are actually easier to see through to the outside, maximizing the view. Lighter colored fabrics allow visible light to enter, but slightly reduce the view. Light fabric is appropriate when eliminating exterior distractions is necessary.
Nine Standard Frame Colors: The Sunair® model is available in nine standard powder-coated frame colors, the most in the industry. Over 200 custom "Ral" frame colors are available by special order.
SUNAIR® MAGNETIC LOCKING DEVICE FOR USE WITH OUR EXTERIOR ROLLING SCREENS 
The Magnetic Locking System for Sunair exterior screens is a unique feature. Installed at each end of the screen hem bar and below the screen, these magnetic locks initially guide and then hold the screen tight in the down position. They keep the fabric flat and smooth. They prevent the screen fabric from riding up in the wind. When retracting the screen, their magnetic grip is released when gear or motor tension is applied. With the magnetic locks installed, the screen fabric remains taught when the screen is in its lowered position. If a wind gust lifts the hem bar, the magnetic lock will release the screen fabric from the pressure and then the magnetic lock system will automatically reposition the hem bar back into the lock.
Vertical power shades are a perfect choice when you are looking to shade an exterior window or enclose a covered deck or patio. With several lines and options of solar power screens and vertical drop curtains, you can find the right solution for your home. Exterior shades provide privacy, protection from harmful UV rays, energy savings and reduce glare inside your home. There are a variety of fabric choices to choose from and each is engineered differently to perform separate tasks.
If you've decided solar power screens are for you, then please contact Alpha Canvas at (704) 333-1581 or through our website or social media pages for more information and even a free estimate.