THE AWNING
It's been around since ancient Egyptian and Syrian times. Even the Romans used awnings in the Coliseum to protect audiences attending gladiator fights and other events. The history of the awning is actually quite interesting and involves the evolution of the types of fabrics and frames we use now.
ITS' EUROPEAN ANCESTRY
According to Wikipedia:
"Among the most significant awnings in the old world was the velarium, a massive complex of retractable shade structures that could be hung above the seating areas of the Roman Colosseum. Made of linen shadecloths, timber framing, iron sockets and rope, the system could effectively shade about one-third of the arena and seating; while another third could be shaded by the high surrounding walls, providing a majority of seats some shade on a blinding afternoon.

It is believed that sailors, with their background in sailmaking and rigging,  were employed to build, maintain and operate the velarium".
"By the early-19th century, awnings became popular and many homes and businesses utilized these shade structures. Fabrics like linen and canvas were used and the frames were made from cast iron posts. Most of the time, these awnings were fixed in place. However, by the latter half of the 19th century, people could actually retract their awnings".
EARLY AMERICAN USE
"In the early morning, a shopkeeper rolls out an awning to begin the day; throughout the day, shoppers stand under the canopy to window-shop or escape a brief bout of rain. On a weekend afternoon, a family gathers under their porch awning to enjoy the shade. These are familiar scenes from earlier urban and residential life in America, and reveal just how prevalent awnings are throughout American history".
"In a time before air conditioning, awnings played an important functional role.

An awning could block out the sun's rays, keeping the interior of a building relatively cool compared to the temperature outside. They could provide some much needed relief from the afternoon sun, shelter during light rainstorms, and even protect furniture and other items that might fade from prolonged direct exposure to the sun.

Even more, awnings provided people with an opportunity to add some architectural flair and a pop of color to their buildings, both residential and commercial.

In the modern age, awnings have a special nostalgic value, linking us with an earlier America. Even with air conditioning and other climate control methods, with a quick walk down today's Main Street, you're sure to see various buildings, each with an awning to cover its entryway".
DESIGN EVOLUTION
"As technology advanced and specialty fabrics like polyester and vinyl began to develop, the awning industry changed. By the 20th and 21st centuries, there were more options than ever: frames were being constructed using aluminum and stainless steel; weather and fade resistant fabrics were developed.  Styles and design evolved with modern times, to provide multiple options to satisfy every customer.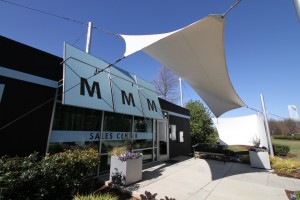 Today, awnings are more versatile than ever and can be installed with clear, vinyl windows to not only provide shade, but extend a business' dining or lounging area and a home's living space. These can easily be rolled up or down, depending on the weather for that open-air, breezy feel, or closed with added climate control HVAC options".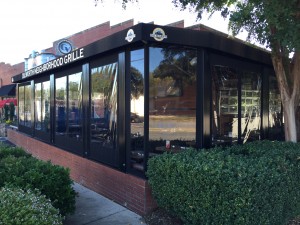 Awnings can also be made with retractable wire and even created to look like a shade sail or structure, using specialty fabrics, such as Sunbrella,  that are now UV resistant, mold and mildew resistant, and so much more. Shade screens or vertical drop screens are yet another shade option. These all can be controlled by a  a remote control or even a smart phone app! This is quite different from when the Romans used linen awnings on wood poles to shade their guests.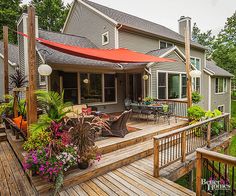 COMMERCIALLY BRANDED AWNINGS
Awnings can be digitally printed on to enhance a company's building or even created with different colors, shapes and sizes, featuring logos, address, graphics, etc. You're sure to be easily spotted with a bright awning, enticing customers to stop in. Awnings can be an excellent marketing advertorial for your business. They have the ability to not only extend your space, but make it more visible by also fully displaying your personality and logo. See more about printed awnings here.

Now that you have learned a little about the history of the awning, are you inspired to want one for your home or your business?  Visit our website at  http://alphacanvas.com/ or feel free to call us at (800) 583-9179.  Also, please check out our website's  photo gallery or Pinterest page for more awning design ideas and inspiration.