BACKYARD LIVING
A backyard living "room" is more than just a storage area for your deck, grill, pool and patio furniture; it's an outdoor living and entertaining area you can turn into a livable, fun and functional part of your home. It can extend your existing entertaining area into your backyard or create an entertaining area if you don't already have one.
Don't you want your backyard to look like one of these?
Contact your local awning professional (Alpha Canvas) to help you decide what's best for your backyard. Remember, your backyard is a flex space whether you have a pool or not; it's an area you can turn into a lounge space or outdoor dining area for your family and friends.
To get started, first set your budget, then begin researching your style, wants and needs. Search online for pictures on our website, in magazines, on social media pages like Pinterest and Houzz. Once you've decided on a design, your local awning professional will need to come take measurements and get the ball rolling. They will inform you of any required local permits you may need to get before starting your project.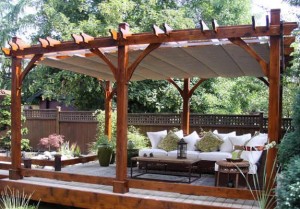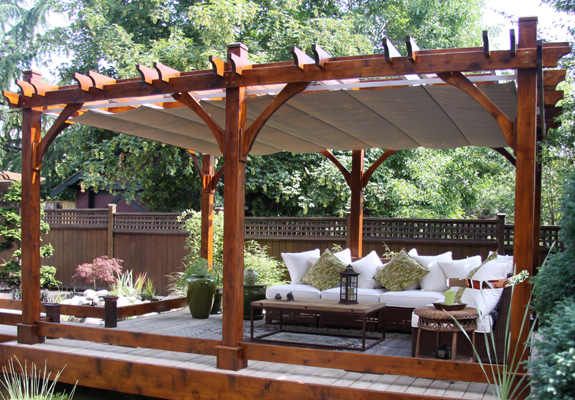 Planning your outdoor living area
You may already have a shade structure in place but don't  know how to make the most of it. It's all a matter of knowing what you like/don't like, your style and of course your budget. Your shade structure basically provides you an area that you can put outdoor furniture or even an outdoor kitchen underneath. Here are a few other things to keep in mind when it comes to creating your dream backyard living space:
What kind of shade structure do you want? There's a huge variety to choose from, including: pergola's, shade sails, fixed or retractable awnings, slide-on wire awnings, or even skylight awnings. These options will also protect from damaging sun rays and cool your shaded space up to 20 degrees lower than the regular temperature.
How big do you want your outdoor living area to be? Be sure to measure all areas carefully (your local professional will do this as well) and take into consideration the existing landscaping.
How much is your budget for your new outdoor space? Make a list of must-have's and a list of options. Prioritize them if you can't do them all at once. You can always add to it down the road.
What type of colors or fabrics would you like to use? This is important if you have furniture, because you will want fabric that is waterproof, weatherproof and fadeproof, such as Sunbrella fabrics. These come in numerous colors, patterns and styles for durable, long lasting style.
What do you want to use this area for? Entertaining? Dining? Cooking? Lounging? All of the above? If you're looking for more of a dining area than a lounging area, then your awning professional will likely have different suggestions on either for you.
You can dress up that area by installing shade accents (such as shade sails or power screens), pergolas, adding stairs or rails. You can even have lights installed into the awning. Invest in some outdoor treated weatherproof furniture, key accents such as lighting (string lights are easy & very affordable) and maybe consider a fire pit for those chilly nights. Tie it all together with some plants and landscaping. And there you have it, your own backyard living area you'll want to  relax in every night!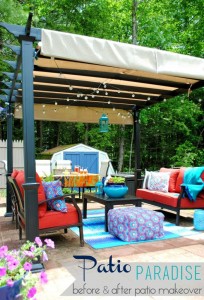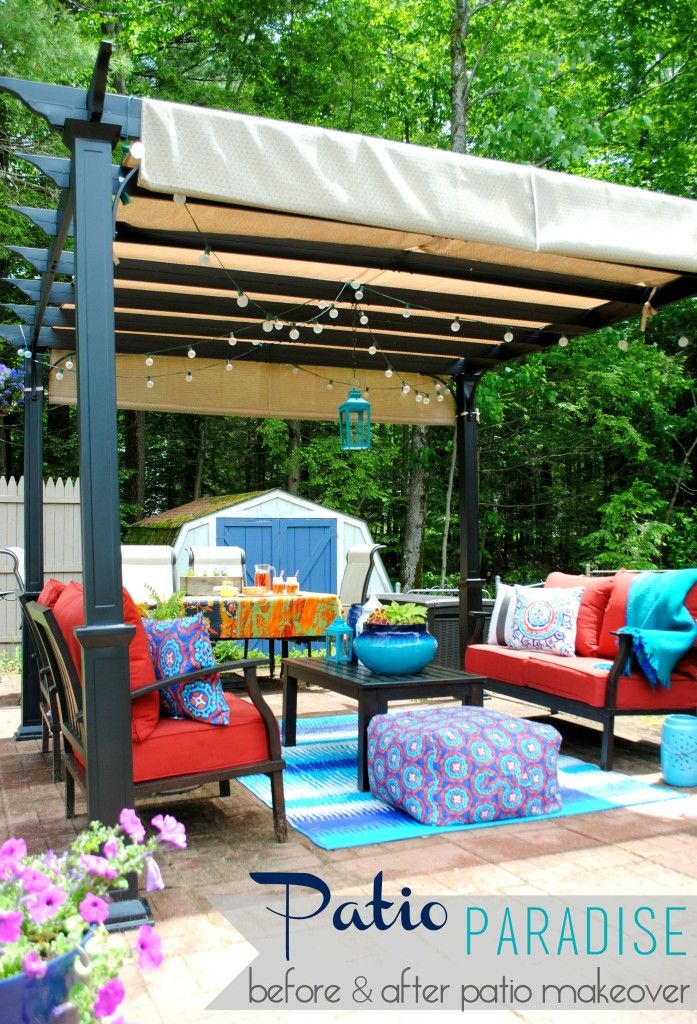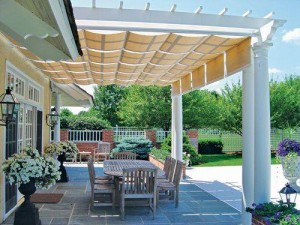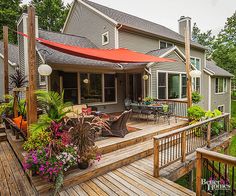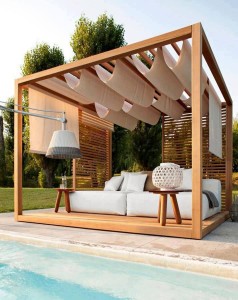 Always remember, when you do any kind of home improvement project like converting your backyard into an outdoor oasis, the value of your home will likely increase. So now that you know a little bit more about converting your backyard into an outdoor living area, contact us at (704) 333-1581 or visit our website here to see how we can help you design the outdoor living space you've always wanted.