The shade sail.
Ever heard of one? Bet you've definitely seen one.
Sometimes called sun sails or sun shades.  Shade sails actually originated on boats, which is how they got their name.  A shade sail is a device to create outdoor shade, based on the basic technology of a ship's sail. They are shaped just like a ship's sail as well – triangular in form.
Shade sails use a flexible membrane tensioned between several anchor points. While generally installed permanently, they are various ways to install. Shade sails are made of a specialty fabric and considered a tensile structure system, due to how it's held taut together by its' own weight between metal rods, wires, heavy duty bolts or even wood beams. Shade sails are growing in popularity, due to their easy and space-saving nature.
Reduces up to 95% of harmful UV rays
The fabric used to construct these structures are shade cloths made from materials like acrylic, vinyl or canvas. The fabric can be made mold and mildew resistant, weather proof and come in numerous colors and styles. These structures provide shade and protection from rain and the damaging sun rays. They serve as a stylish cooling shade structure, where the temperature underneath a sail can be up to 20 degrees lower than the temperature outside the sail. These shade structures generally block 90 to 95 percent of the sun's harmful UV rays.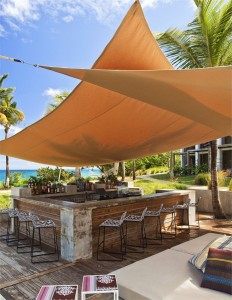 A little sun shade history
Ancient Egyptians, Greeks and Romans used large pieces of fabric to provide shade. The Rome colusseum was shaded with large canvas "sails" pulled into place by Roman sailors. Modern shade sails came into wider use with the invention of a far more durable and relatively inexpensive fabric called shade cloth. Useful versions of shade cloth appeared in the early 1990's, especially in Australia and South Africa.
For most of the 1990's, there was some confusion about what these new products should be called; however they are now most commonly called shade sails throughout Australia, South Africa and the US. Rapid growth in the "shade sail industry" has seen many new businesses and websites offering shade sails and shade structures.
These shade sails have more of a modern design to them, as opposed to your standard awning or canopy shade structure, so they tend to generate an architectural, artistic feel to them that's quite dynamic and unique.
Common uses and trends
Often times, these shade sails are seen on playgrounds or in community areas. School playgrounds and daycare centers commonly place them over the entire play area to provide adequate shade and shelter for the children. Many business parks are installing them over outdoor picnic and lounge areas and homeowners are placing them over pools and decks.
While these forms of tensile architecture are becoming more recognizable in large-scale commercial projects, such as airports and business parks, architects and designers have been experimenting more and more with shade sails in residential architecture and landscapes.
Installation advice
For residential use of shade sails, it is recommended to install them with a quick-release "snap hook" at each corner. This allows the sail shade to be taken down quickly in storms, high wind conditions or during the winter. Correct installation requires that tension be applied to the sail to allow it to position itself into it's correct taut shape, so as not fly loose in the wind. It's also important to use heavy duty mounts and secure them enough to withstand the the force of occasional wind gusts.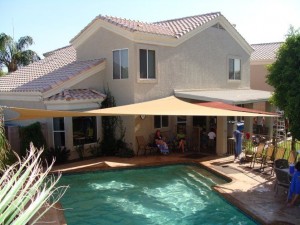 Current shade sails vary in size, shape and color. There is a trend towards installing multiple sails, sometimes overlapping them, which adds some form and style to its' function.  You can also blend different colors for interesting contrast. Shade sails are tensioned with a stainless steel turnbuckle or pulley system at each corner of the sail. For permanently fixed sails, the turnbuckle provides the best means of fixing the canopy since it generally allows more tension to be applied. For sails that are used on an occasional basis, the pulley system is more practical since it can be set up and taken down in just a couple of minutes.
Shade sails can also "cantilever" past their posts. (A cantilever is a rigid structural element, such as a beam or a plate, anchored at only one end to a (usually vertical) support from which it is protruding). This can be used for more interesting and architectural looking shade projects or when posts need to be out of the way. You might see these at an ampitheater, convert venue or even a park.
Sun shades typically don't take up much space and can easily fit over a small space, which makes them ideal for home use. Shade sails are great alternatives for awnings and canopies. These can be set up outside as stand-alone structures. They don't need to be attached to a building. If you have a large backyard you can also use a shade sail for your parties and gatherings.
The addition of a shade sail can transform an outdoor space into something much more interesting. Shade sails provide a way to experiment with an iconic element in a landscape design. Futuristic looking, yet they can complement both modern and traditional landscapes.
To see more on shade sails, check out a post from Houzz here or visit our photo gallery here.
Feel free to call us anytime at (704) 333-1581 to discuss and plan a shade sail for you, your business, or your project.