Is it time to replace? 
Amazing what a simple awning recover can do to freshen up a building! Did you know that we recover your existing awnings to give them a fresh look with new, updated fabric? Usually we can even recover it in the same fabric or pattern you had before, as long as it's still in stock with the original manufacturer. Awnings are typically only designed to last approximately 8-10 years, if maintained properly. Although weather and debris always pose a risk to the life of your awning, generally, they're expected to live and look good up to 10 years. Sunbrella, our most popular awning fabric of choice, offers a 10-year warranty. Once your awning begins to look faded, tattered and torn, or if it's been over 10 years, it's time to recover. Just like with mattresses, 'if it's over 8, it's time to replace' – but we'll go with 8-10 years though! The frames typically do not need to be replaced, unless they're rusted or damaged in any way, so that saves you some money there. We can just do a simple recover of the fabric on your awning. This gives you a chance for a fresh, updated look with an new color or pattern, if you'd like. Call us when you're ready to recover!
If you need some more encouragement, check out the before and after of this recent awning recover project we completed at South Piedmont Community College's Lockhart-Taylor Center and the Ingram Room in Wadesboro, NC!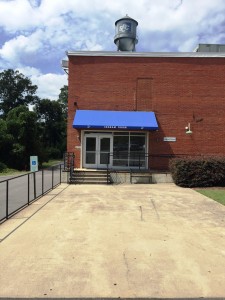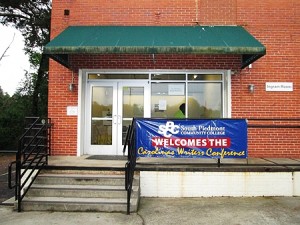 We couldn't be more pleased with how their awning recovers turned out.
If you think you're ready for a recover, or may be in the near future, please call Alpha Canvas & Awning today at  (704) 333-1581! We'd be happy to go over all the options with you, give you a free estimate and even send you some fabric samples to you can get your plan started.