MAINTENANCE ITEMS TO KEEP IN MIND
Your awning's only use is not only to provide for shade and protection from the elements, but it's also a stylish asset to your home or business. But do you know what you should and should not do to maintain and keep it looking good for the long haul?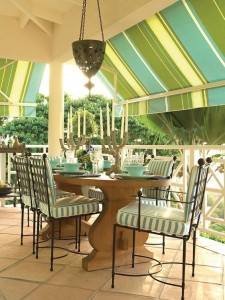 A quick list of maintenance to do seasonally:
YES  – please try to clean your awning and make sure to sweep off dirt and debris. You can also clean it with a garden hose and let air dry.

NO – do not use chemical cleaners. This can ruin some of it's warranty features, such as mold & mildew resistance or fire retardance. You can; however,   use mild soap or dish detergent, such as Dawn or Dove. But Sunbrella fabrics can actually even be spot cleaned with bleach!

NO – don't forget to address rips & tears, these will get bigger over time and eventually your awning will completely fall apart.

YES – you can still use your awning in winter, even when it's cold! But, please be extremely wary of snow  – it can cause collapse an awning, due to its' heavy weight. Sweep off any snow with a broom or if at all possible, lower or remove the awnings altogether, just in case.

NO – don't ever grill out underneath an awning.  You don't want to risk the fabric catching on fire. Even though some fabrics are fire retardant, it's just not advisable to take the risk.

YES – remember to look over the awning every now and then to for normal wear and tear. Address any frame or fabric issues quickly. Also, check for loose mounting hardware. Notify your installer of any issues.

NO – do not let trees and landscaping get too close to your awning. Trim any branches that could potentially rip or tear the material.
Awnings are an asset that you spent good money on and just like a car, they are prone to depreciation due to neglect, weather and age, if not properly cared for. They won't last forever – typically, awnings will last approximately 5-8 years, depending on how well they've been maintained. So be sure to take care of it, if you plan on keeping it around that long!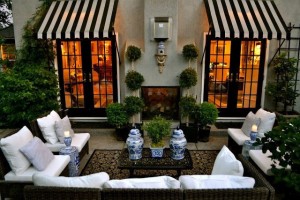 For more information on awnings and maintenance, you can visit us at our website here: Alpha Canvas or feel free to call us anytime at (704) 333-1581 or (800) 583-9179 with any questions or concerns.