ARTISTIC SHADE
Shade structures comes in many varieties. One of the most artistic and stylish ways to do shade is with the slide-on wire canopy.
The architectural slide-on wire canopy is a type of pergola shade structure, using just fabric panels, wire cable, and some hardware clips. The fabric panels are mounted on the wire in a swooping valance design, which gives users the option to control how much light gets in by retracting the panels how much or how little they want.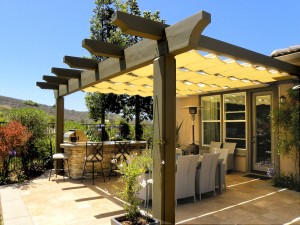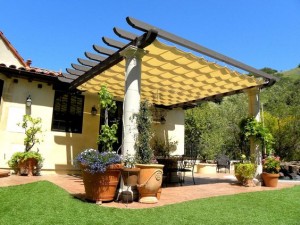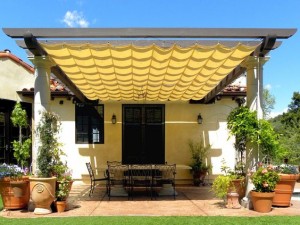 EASY AND FLEXIBLE
Slide-on wire canopies are a perfect solution for controlling the amount of sunlight or shade that enters your area. If you decide you want to shade an area for a little while, you can fully extend the canopy to completely cover the area. If you want to let the sunshine in, simply just retract the canopy and let in as much light as you want.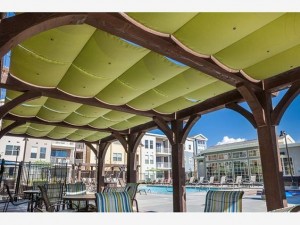 If you're thinking about adding one of these slide-on wire canopies, it can easily be installed to your existing wood or steel frame, pergola, trellis or a custom structure can even be built for you. Slide-on wire canopies can be a cool artistic addition to your existing patio structure.
These slide-on wire canopies are beautiful to look at; in fact they are very popular in Europe and have become quite popular among architects and landscape designers here in the US.
The design concept is fairly basic – just several long draped panels made of a durable, outdoor and weather-resistant fabric, which are mounted on wire cables with heavy-duty hardware clips. The fabric panels are then arranged in billowed overhead swags to allow some light to filter in. So simple, yet so attractive.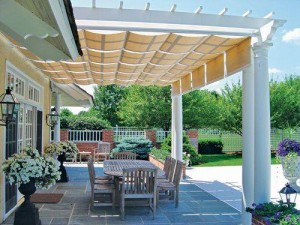 The slide-on wire canopy design allows you to unclip the panels, clean and store them when not in use. Slide-on wire awnings can be made with traditional awning outdoor fabric, such as the popular Sunbrella brand or other mesh fabrics, that allow more sunlight to pass through.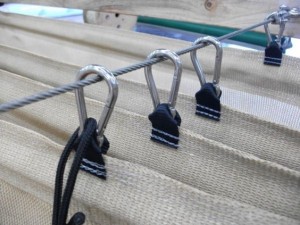 FABRIC OPTIONS
The Sunbrella line offers a beautiful variety of colors and patterns for you to choose your fabric panels from. You can even install different color shades for each panel set, which creates a cool, artistic design and adds a unique look to your shaded area. It's also a really great way to impress guests. You can even install side curtains to hang off horizontal poles to add an even more intimate ambience and privacy to your shade structure.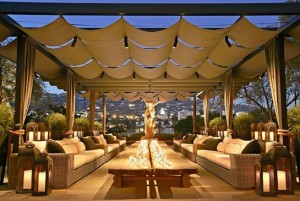 HOW THESE WIRE CANOPIES DIFFER FROM STANDARD AWNINGS 
Allows light to filter through the billowing valance design
Retractable; which makes it versatile and flexible, allowing for control of how much shade or sunlight comes through
Easy cleaning and storage, because panels can be removed
Attractive and unique designs, using different fabric panel colors
Material made from premiere brand outdoor fabrics such as Sunbrella or Dickson, among others
Can be custom designed or installed to an existing structure
Fabric panels slide back and forth easily to offer shade as needed
Optional security straps can keep panels retracted in heavy wind
Pull stick included to reach and move overhead panels
Optional spreader bars can create a more uniform billowed look
Includes adjustable turn-buckles to keep cables taught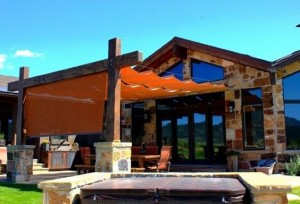 So if you're ready to invest in slide on wire canopies, give Alpha Canvas a call at (704) 333-1581. We're here to answer any questions or concerns you may have. Once you decide what you want, we'll get the process going by assisting you in the design, fabric selection, then making it here in-house, and finally we'll come install it for you! Browse our Pinterest page for more design inspiration.